Expecting Eternity
(Vyhlidka na Vecnost)
Czech publication: 2011



They live among us - we know them from television, from newspapers and from radio – the spokesmen.

However, only one of them is Mr. Spokesman, but you will not run into him in the mass media. Mr. Spokesman does not do much talking. Mr. Spokesman only delivers messages. When he begins the sun hides its face and the number of funeral services doubles. Triples.

Strontium
(Stroncium)
Czech publication: 2006

Jiri Kulhanek's latest novel that surprises us with a completely new theme from the not so distant future, where the remains of humanity fight for survival and fight each other, as mankind commonly does.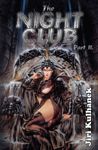 The Night Club: Part II.

(Nocní Klub: Cást II.)

Czech publication: 2003
English publication: 2011
High atop a Tokyo skyscraper, a young man called Tobias is hurled out of a window by a cowardly enemy. He wears the Demon Shadow, an indestructible armor few can wield—will he fall to his death?

The hero's quest takes him from the streets of Prague, through the emerald islands of the South China Sea, and into the towering high-rises of Tokyo as he strives to save his friends from the evil Hidden Ones and take revenge.

Having no choice but to accept his transformation into a vampire, Tobias discovers the many advantages when he defeats hordes of powerful enemies and survives countless bloody battles.

With plot twists and turns throughout the story, Jiri Kulhanek masterfully combines science fiction with undiluted horror and fantasy.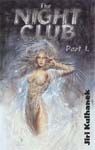 The Night Club: Part I.

(Nocní Klub: Cást I.)
Czech publication: 2002
English publication: 2008

In the dark corners of Prague, a crazed couple plots a sinister demise for a kidnapped girl. But justice is swift in the form of a shadowy group called the Night Club. The couple meets an untimely end and the little girl is saved - just one of many innocent victims rescued by the members of the Night Club.

It is with this group that Tobias has lived since he was abandoned as an infant, and he along with the other crusaders help clear Prague of crime. But when an unforeseen event nearly annihilates the Night Club, Tobias is given up for dead by the survivors. Little do they know that not only is he alive, but has been reborn as a vampire.

When Tobias awakes to discover his astonishing fate, he finds himself in southeastern Asia aboard a modern-day pirate ship commanded by an immortal madam and her henchmen. Servitude ti the evil vileness, however, is not in Tobias's plan; his future remains in Prague where he must continue his quest to punish the guilty. Although first he must escape ...

An intriguing blend of fantasy, horror, and adventure, The Night Club delves into the seedy underworld where good prevails over evil, and justice must be served above all.




Blood Path: Good Guy
(Cesta Krve: Dobrák)
Czech publication: 1996

This two part novel narrates in a breathtaking style the transformation of an average citizen into a warrior, who attempts to not only survive an alien invasion, but also to strike back.

Blood Path: Cynic
(Cesta Krve: Cynik)
Czech publication: 1996

The Wild and Cruel: Crosses
(Divocí a Zlí: Kríže)
Czech publication: 2000

This four part series follows three indestructible heroes, who travel through time and battle for the rights of the weak.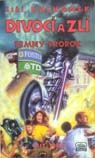 The Wild and Cruel: Dark Prophet
(Divocí a Zlí: Temný Prorok)
Czech publication: 2000

The Wild and Cruel: Hardcore
(Divocí a Zlí: Hardcore)
Czech publication: 1999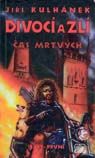 The Wild and Cruel: Time of the Dead
(Divocí a Zlí: Cas Mrtvých)
Czech publication: 1999

Rulers of Fear
(Vládci Strachu)
Czech publication: 1995

A book that elevated a yet unknown Czech author, Jiri Kulhanek, into the lime light and the center of attention on the Czech literary scene. An untraditional story about vampires and their Hunters set in an indefinite time very near present day.